Christmas Music: Best Holiday Songs Of All Time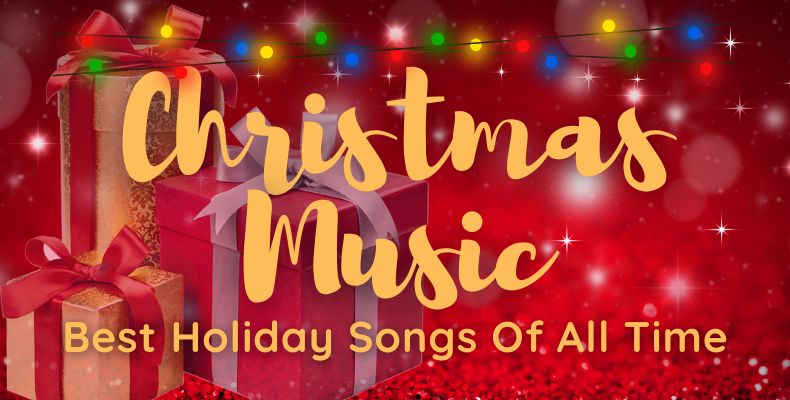 If you love Christmas as much as my wife does, then you're no doubt here to find the best Christmas Music playlists ever.
You've come to the right place! Here you'll discover the the best Christmas songs of all time. These tunes evoke the spirit of the holiday season and serve as the soundtrack to cherished memories and new celebrations.
Christmas Music: Timeless Classics and Modern Hits
100 Greatest Christmas Songs Ever: Spotify Playlist
Top 100 Christmas Songs Of All Time: YouTube playlist
The Very Best Christmas Oldies Music: YouTube Playlist
You can explore a variety of genres, from country to oldies, and listen to Christmas music from different cultures. You'll hear familiar tunes such as "O Holy Night," "O Come All Ye Faithful," and "O Tannenbaum" alongside lesser-known songs that showcase the unique spirit of Christmas around the world.
Whether you prefer instrumental arrangements or the sweet sound of vocal harmonies, there is no shortage of options to make your holiday soundtrack merry and bright.
As you embark on this musical journey, take note of the familiar songs that bring comfort and nostalgia while keeping an ear open for new favorites that could become holiday staples in your household.
No matter your taste, there's an abundance of Christmas music ready to captivate your senses and help create a magical atmosphere throughout the season.
History of Christmas Music
As you go deep into the history of Christmas music, you'll find that it has been an integral part of the holiday season for centuries.
Origins
Its origins can be traced back to 4th-century Rome, with Latin-language hymns such as Veni redemptor gentium playing a crucial role in early celebrations.
​The 13th Century
During the 13th century, under the influence of Francis of Assisi, the rise of the carol written in the vernacular began. This led to broader adoption of Christmas music, making it more accessible to the general population. As time went on, the tradition of Christmas music continued to evolve.
​The 18th Century
In 1707, Isaac Watts published a collection of hymns called "Hymns and Spiritual Songs," which contained at least 400 hymns he wrote during his lifetime. This sparked an uptick in hymn-writing, further solidifying the importance of music during the Christmas season.
The 19th Century
The 19th century saw a resurgence of holiday music creativity, with new classic Christmas songs emerging. One example is the world-famous "Silent Night," written by Franz Xaver Gruber in 1818.
Other notable songs from this period include "Joy to the World" (1839) and "Hark! The Herald Angels Sing" (originally composed in 1739, with new lyrics written in 1840).
By the 20th century, Christmas music had taken on various forms, from traditional carols and hymns to more modern and popular music styles.
The Nine Lessons and Carols service, established by Eric Milner White for King's College, Cambridge, sought to link ancient traditions with contemporary celebrations.
Fast Forward To Today
Today, Christmas music continues to be an essential part of the holiday season, offering a diverse range of old songs and new compositions for you to enjoy. As you celebrate this special time of year, remember the long and rich history behind the festive melodies that fill the air.
Fun fact: Did you know that James Brown released a Christmas song called "Santa Claus Go Straight to the Ghetto"?
It's one of the many novelty songs that uniquely flavor the holiday season. Contemporary artists like Meghan Trainor and Ariana Grande have also contributed fresh takes on Christmas music, with songs that have quickly become holiday staples.
Whether in St. Louis or anywhere else, you can easily access these beautiful songs on your mobile devices. Many retail stores also play these tunes to set a festive mood for shoppers.
From the first song you hear at the start of the season to the winter classic that plays as you open your Christmas gift, these songs are an integral part of the holiday experience.
Modern Christmas Classics
Many talented artists have recently contributed to the growing list of modern Christmas classics. They've helped redefine the holiday season's soundtrack while maintaining the warmth and magic that make Christmas music special.
Mariah Carey's "All I Want for Christmas Is You" has become one of the most iconic Christmas songs of the modern era. It's an upbeat, catchy tune that keeps you in the holiday spirit.
Similarly, Michael Bublé has released many Christmas covers and original songs, such as "It's Beginning to Look a Lot Like Christmas" and "Cold December Night." His smooth vocals and jazzy arrangements have garnered a huge following.
Kelly Clarkson's "Underneath the Tree" is another energetic and uplifting contemporary Christmas song. The powerful vocals and catchy chorus make it an irresistible addition to your holiday playlist.
Bruce Springsteen also brought a new flavor to the Christmas season with his rendition of "Santa Claus is Comin' to Town." The lively performance and rock 'n' roll flair transformed this classic into a modern hit.
In a more introspective approach, John Lennon's "Happy Xmas (War Is Over)" addresses themes of peace and unity during the holiday season. The song offers a powerful message that still resonates with listeners today.
Meanwhile, Taylor Swift has ventured into Christmas music with tracks like "Christmas Tree Farm, " a nostalgic and enchanting ode to her childhood. Her pop-infused holiday sound adds a contemporary twist to your festivities.
These modern Christmas classics have undoubtedly earned their place alongside traditional holiday tunes. They've provided refreshing takes on the season's sounds and created memorable moments and emotions that many look forward to yearly. Some of the highest income in the music business comes from Christmas songs!
So, this Christmas, include these exceptional songs in your playlist and celebrate the joyous season with their captivating melodies and heartfelt themes.
Popular Christmas Albums
Traditional Favorites
During the holiday season, numerous Christmas albums contribute to that festive feeling. These albums often include timeless classics that generations have enjoyed. Here are some of the best traditional Christmas albums to add to your collection:
A Motown Christmas: This outstanding 12-track sampler features highlights from holiday albums like the Jackson 5's Christmas Album, Stevie Wonder's Someday at Christmas, and Smokey Robinson & the Miracles' The Season of Miracles. All tracks evoke the beautifully soulful vibe that defined the Motown era.
Nat King Cole – The Christmas Song: Nat King Cole's timeless voice provides a delightful and warm atmosphere in this album, filled with classic holiday tunes such as the iconic "The Christmas Song (Chestnuts Roasting on an Open Fire)."
Elvis Presley – Elvis' Christmas Album: The King of Rock and Roll shines in his 1957 holiday album, which includes traditional favorites like "White Christmas" and "O Little Town of Bethlehem" alongside his interpretation of "Blue Christmas."
Contemporary Hits
Moving on to more recent seasonal delights, these contemporary Christmas albums offer a fresh spin on holiday tunes:
Michael Bublé – Christmas: Bublé's crooning voice offers a rich and inviting experience, covering classics such as "It's Beginning to Look a Lot Like Christmas" and "Santa Claus Is Coming to Town" with modern style.
Mariah Carey – Merry Christmas: Featuring the iconic hit "All I Want for Christmas Is You," Mariah Carey's 1994 holiday album has stood the test of time and remains a beloved favorite.
Kelly Clarkson – Wrapped in Red: The first Christmas album released by the original American Idol winner, Wrapped in Red blends new songs, like the title track, with fresh renditions of holiday standards such as "White Christmas" and "Silent Night."
Whether you lean towards traditional tunes or contemporary takes on holiday songs, these popular Christmas albums cater to a wide range of tastes, ensuring that your holiday season is filled with joy and cheer.
Famous Christmas Songs
As you dive into the festive season, you'll likely find various well-known Christmas songs. These tunes have become synonymous with the holiday and create a cherished atmosphere of celebration. Below are some famous Christmas songs you may recognize and enjoy.
Jingle Bells: One of the most famous Christmas songs, "Jingle Bells," has a lively melody and cheerful lyrics. It is a timeless classic composed by James Lord Pierpont in 1857 that continues to bring joy to the holiday season.
Little Drummer Boy: This touching song tells the story of a young boy who plays his drum for the newborn King. Written in 1941 by Katherine K. Davis, you can appreciate the lyrics' gentle melody and heartfelt sentiment.
White Christmas: Bing Crosby's soulful rendition of "White Christmas" paints a nostalgic picture of a snowy holiday. This iconic ballad, written by Irving Berlin in 1942, continues to create a dreamy atmosphere during the festive season.
Feliz Navidad: Jose Feliciano's catchy tune, "Feliz Navidad," offers a bilingual Christmas celebration. Released in 1970, it has become a staple in holiday playlists worldwide due to its upbeat melody and simple, inclusive message.
God Rest Ye Merry Gentlemen: Dating back to the 16th century, "God Rest Ye Merry Gentlemen" is an ideal addition to your Christmas song list. The carol is in a minor key and carries a sense of hope, reminding us to embrace the holiday spirit with joy and gratitude.
Jingle Bell Rock: This lively, danceable tune was released by Bobby Helms in 1957 and has since been passed down through generations. Jingle Bell Rock captures the fun and excitement of the holiday season, making it a must-have on any Christmas playlist.
In conclusion, these famous Christmas songs contribute to the festive season's magic and warmth. Whether they evoke joy, nostalgia, or a sense of wonder, these tunes create lasting memories and cherished moments during your holiday celebrations.
Christmas Music Performers
Numerous artists have contributed to the beloved holiday genre, creating classics you'll enjoy every Christmas season. Some of the most celebrated performers in Christmas music history include Frank Sinatra, Beach Boys, Dolly Parton, Stevie Wonder, John Legend, and Elvis Presley.
Frank Sinatra, an American singer, and actor, often called "Ol' Blue Eyes," delivered timeless Christmas hits that enchant listeners.
Songs like "Have Yourself a Merry Little Christmas" and "Santa Claus Is Coming to Town" showcase Sinatra's warm and soothing voice, making them holiday staples.
Another iconic band, The Beach Boys, blended their signature sound with traditional Christmas melodies, putting a fresh spin on the festive season.
Their 1964 album, "The Beach Boys' Christmas Album," features favorites such as "Little Saint Nick" and a unique rendition of "Frosty the Snowman."
Dolly Parton, the celebrated country singer, has embraced Christmas throughout her career. Her collaboration album with Kenny Rogers, called "Once Upon a Christmas," showcases beautiful harmonies in songs like "Winter Wonderland" and "The Christmas Song."
Dolly's most recent holiday album, "A Holly Dolly Christmas," brings star-studded collaborations, including one with Michael Buble on "Cuddle Up, Cozy Down Christmas."
Soulful and powerful, Stevie Wonder has also put his mark on Christmas music. His 1966 album, "Someday at Christmas," includes the heartfelt and socially conscious title track, which calls for peace and unity during the holidays.
Other notable songs from the album include "Silver Bells" and "Ave Maria."
Contemporary artist John Legend has demonstrated his passion for Christmas music with his 2018 release, "A Legendary Christmas." Collaborating with artists like Esperanza Spalding, Legend's album offers a modern twist on holiday favorites such as "Have Yourself a Merry Little Christmas" and the original song "Bring Me Love."
Lastly, the "King of Rock and Roll," Elvis Presley, cannot be overlooked when discussing Christmas music performers. Elvis' distinct and memorable voice has made his rendition of "Blue Christmas" an unmistakable holiday classic.
His album, "Elvis' Christmas Album," offers a mix of festive tunes and gospel-inspired tracks like "Silent Night" and "O Little Town of Bethlehem."
These talented artists, among many others, have created an enduring legacy within the world of Christmas music. Their contributions continue to add warmth, joy, and soul to the holiday season, year after year.
Christmas Music Platforms and Playlists
As a fan of Christmas music, you might be looking for the perfect platform and playlist to immerse yourself in your favorite holiday tunes. Luckily, there is no shortage of great options for you to choose from.
Spotify offers a playlist called "CHRISTMAS MUSIC TOP 100 HOLIDAY SONGS." This playlist consists of 285 songs and is followed by over 900K users.
You'll find some of the best Christmas songs here, from holiday classics to modern renditions. Simply download the Spotify app and search for the playlist to dive into the festive vibes.
Apple Music has a playlist called "Essential Christmas," which features an assortment of old chestnuts, new classics, and future sing-along staples.
It helps you create the ideal soundtrack for your next Christmas celebration. Pop stars, hip-hop legends, rockers, and soul singers come together to raise their voices in this collection of holiday tunes.
Amazon Music is another excellent platform where you can find a variety of Christmas playlists tailored to your tastes. With a Prime subscription, you can access millions of songs and curated playlists to enjoy your favorite Christmas songs.
Pandora lets you listen to Christmas music on their platform as well. Discover new music you'll love and listen to free personalized Christmas radio stations on Pandora Internet Radio. Tune in to the stations and experience the joy of holiday music.
iHeart also offers an iHeartChristmas Playlist featuring a mix of old favorites and newer arrangements, providing a well-rounded selection of Christmas tunes.
From Burl Ives to The Jackson 5, their playlist captures the essence of holiday classics and contemporary hits. Stream music, radio, and podcasts for free using the iHeart App.
Regardless of your choice of platform, you're sure to find the perfect Christmas playlist to satisfy your holiday song cravings. Enjoy exploring these platforms and playlists as you immerse yourself in the festive spirit, and let the music fill your homes and hearts with cheer.
Music and the Christmas Spirit
During the Christmas season, you may notice that holiday music seems to be everywhere – from your local radio station to shopping malls. Unsurprisingly, this music genre creates a festive atmosphere and evokes the Christmas spirit uniquely and powerfully.
The tunes ringing during Christmas Eve are more than just a backdrop for your celebrations; they can elicit feelings of joy and nostalgia.
Timeless classics like "It's the Most Wonderful Time of the Year" and "Have Yourself a Merry Little Christmas" have a comforting familiarity, creating an emotional connection with the listener, while contemporary holiday hits provide new, exciting ways to celebrate the season.
There's something about holiday music that touches your emotions, making you feel warm, cozy, and, most importantly, cheerful. It's not just about the catchy melodies and lyrics; it's how these songs resonate with your memories and experiences, reminding you of what makes the season so special.
Christmas Concerts
Listening to Christmas music at home is already a great way to get into the holiday spirit. But you can take this to another level by going to a Christmas concert. I recommend finding one of the Chistmas Candlelight Concerts near you for a truly unique experience.
As you listen to your favorite Christmas tunes, remember they play a significant role in your holiday experience. Whether bonding with friends and family over sing-alongs or seeking solace in their comfort on a snowy winter's night, your connection to these songs enhances the Christmas spirit.
So go ahead and embrace the magic of holiday music. Let it lift your spirits and warm your heart during this most wonderful time of the year.
Unique Christmas Songs
As you dive into Christmas music, you will find many unique songs that stand out among the classic tunes. These creative tracks put a fresh spin on holiday cheer, sometimes focusing on unusual subjects or introducing new musical elements.
One such interesting song is "Santa Claus is Comin' to Town." While many renditions exist, the one by The Andrews Sisters is particularly distinctive. Their harmonies and upbeat rhythm give this song its unique flavor, making it stand out among the traditional carols.
Another unconventional holiday hit is "Rudolph the Red-Nosed Reindeer" by Gene Autry. This song takes a charming, narrative approach to the story of Santa's most famous reindeer, and its catchy melody has made it a favorite among holiday music listeners of all ages.
A more offbeat addition to the Christmas music genre is "The Best Little Whorehouse in Texas." A soundtrack from the play and movie of the same name, the song "Hard Candy Christmas" by Dolly Parton brings a bittersweet yet heartwarming perspective to the holiday season.
Of course, the list of unique Christmas songs wouldn't be complete without mentioning "Fairytale of New York" by The Pogues. Featuring Kirsty MacColl, this spirited duet combines an Irish folk-rock style with powerful, evocative lyrics, painting a complex story of love, loss, and hope.
Exploring these uncommon tracks will certainly add some variety to your holiday playlist. By delving into the lesser-known gems of Christmas music, you might discover a new favorite song to make your season even merrier.
Religious Christmas Music
During the holiday season, many people enjoy listening to religious Christmas music. This genre encompasses many songs, from holiday favorites to traditional Christmas carols.
As you explore religious Christmas songs, you'll find that they often reflect the rich history and varied beliefs of Christianity.
One of the most cherished religious songs is "O Holy Night." This classic Christmas carol captures the season's spirit with its powerful lyrics and beautiful melody. Its message of hope, joy, and divine love shines through the song, making it a staple of holiday music.
Another popular religious Christmas song is "Adeste Fideles," also known as "O Come, All Ye Faithful."
This hymn, written in the 18th century, has been translated into countless languages and recorded by numerous artists. It's a call for believers to gather in worship and praise, and it remains a central part of Christmas celebrations worldwide.
In addition to these well-known pieces, numerous other religious Christmas songs fill the air during the holiday season.
For instance, traditional Christmas carols such as "Hark! The Herald Angels Sing," "Silent Night," and "Joy to the World" celebrate the birth of Jesus Christ and the joy it brings to humanity.
Consider playlists on platforms like YouTube and Spotify for religious Christmas music. These curated collections often feature a mix of classic and contemporary songs, ensuring you'll find something for every taste.
Some examples include "Beautiful Christian Christmas Songs 2020 Playlist" on YouTube and "Contemporary Christian Christmas" on Spotify.
In summary, religious Christmas music is an integral part of the holiday season for many people. From classic carols to modern compositions, these songs have the power to evoke emotions, bring people together, and enhance your Christmas experience.
Frequently Asked Questions
What are the top traditional Christmas songs?
Some of the top traditional Christmas songs include "Jingle Bells," "Silent Night," "Deck the Halls," "Hark! The Herald Angels Sing," and "O Come, All Ye Faithful." Generations have cherished these songs and continue to bring joy to people during the holiday season.
Where can I find a Christmas music playlist?
There are various platforms where you can find Christmas music playlists, such as Spotify, Apple Music, and YouTube. On these platforms, you can search for Christmas playlists curated by other users or create your playlist by adding your favorite Christmas songs.
How can I download Christmas music?
You can download Christmas music from iTunes, Amazon Music, or Google Play Music. These platforms often have a selection of free and paid Christmas songs available for download. Check the terms and conditions before downloading any music to ensure you have the right to use it.
Which are the best Christmas music instrumentals?
Some of the best Christmas music instrumentals include orchestral or piano arrangements of traditional Christmas songs like "The Nutcracker Suite" by Tchaikovsky, "Carol of the Bells," and "Sleigh Ride."
Instrumental jazz versions of Christmas songs, such as Vince Guaraldi's "A Charlie Brown Christmas," are popular choices.
What are some classic Christmas music examples?
Classic Christmas music examples encompass a variety of songs that have stood the test of time. Some examples include Bing Crosby's "White Christmas," Nat King Cole's "The Christmas Song," and Judy Garland's "Have Yourself a Merry Little Christmas."
These songs invoke nostalgia for many people and remain popular holiday choices.
What is the most popular Christmas song currently?
The popularity of Christmas songs can vary from year to year, with trends and new releases affecting listeners' preferences.
However, one of the most consistently popular Christmas songs is Mariah Carey's "All I Want for Christmas Is You." This song has become a modern classic and often tops the charts during the holiday season.
Conclusion
As Christmas Day approaches, it's the perfect time to update your playlist for the best listening experience. Whether shopping in a department store, enjoying a quiet evening by the Yule log or celebrating with loved ones, the best Christmas songs can enhance the holiday atmosphere.
From Bing Crosby's version of "White Christmas" to José Feliciano's "Feliz Navidad," these Christmas favorites have stood the test of time.
So, this holiday season, why not explore a Christmas collection that includes everything from Dean Martin's "Let It Snow, Let It Snow, Let It Snow" to Jimmy Fallon's comedic holiday tunes? You might discover a new favorite Christmas song among the many wonderful options.
And remember, whether it's the traditional "12 Days of Christmas" or a pop star's latest holiday hit, the most important thing is to enjoy the music and let it fill your heart with holiday cheer. Happy Holidays!